Milanese Gremolata
$ 13.99
Product Description
Our UP Certified Extra Virgin Olive Oil is infused with Gremolata - a traditional Italian herbal condiment consisting of fresh lemon zest, minced garlic, Italian flat leaf parsley & a hint of mint. The herbs and citrus zest are typically crushed together in a mortar to release their pungent essential oils.
Try finishing your fish with this exciting flavor combination. It is also traditionally served with osso buco, veal & other slow braised dishes to add a zip of flavor. We also recommend our Gremolata for marinating poultry, in dressings, and paired beautifully with our Sicilian Lemon White Balsamic Condimento, Jalapeno White Balsamic Condimento, Oregano White Balsamic Condimento, Grapefruit White Balsamic Condimento, or Traditional Style Condimento.
---
---
Related Items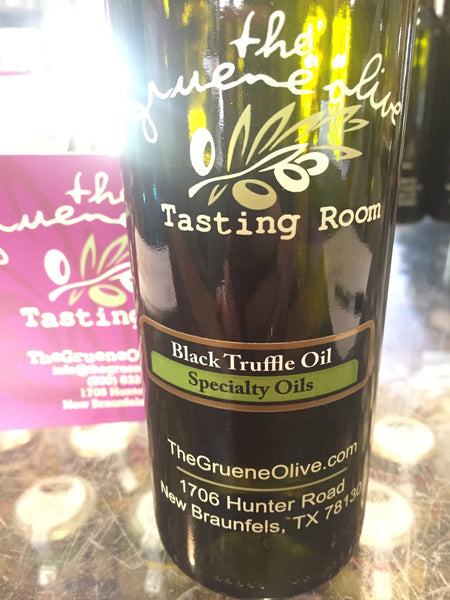 Black Truffle EVOO
$ 27.99
---
This late fall, early winter truffle is used in the making of this savory oil. A "tea method" is utilized which steeps the ripe truffles for extended periods of time in olive oil. The closely guarded, proprietary process yields our heady, complex Black Truffle oil. No extracts or chemicals are used in it's production. Fantastic in cream-based soups, risotto or mashed potatoes!
Chipotle
$ 13.99
---
Made with UP Certified Extra Virgin Olive Oil, the smoky flavor of this chili-infused olive oil is great for marinating steaks, brushing on grilled chicken or paired with seafood. Drizzle over vegetables, use in salsa, or as a spicy condiment for pizza. Great with shrimp, potatoes, or drizzled over warm beans. It makes excellent dipping oil for artisan breads, finishing oil for soups, pasta, and grain dishes. Try pairing with our Blood Orange Olive Oil!

All Natural,
No artificial flavors or additional ingredients
Eureka Lemon
$ 13.99
---
Our Eureka Lemon olive oil is produced by pressing whole, fresh lemons together with early harvest, certified organic olives at the time of crush. Its light, refreshing flavor is just perfect to sauté shrimp or scallops or to drizzle on chicken or fish. Yet this versatile oil can also be used to bake sweets such as cookies, biscotti, cakes, and in granola. It's fabulous in marinades, dressings on salads, vegetables, and more.

Pairs amazingly with the blueberry balsamic, raspberry balsamic, jalapeno white balsamic, apricot balsamic, fig balsamic, and pomegranate balsamic

All Natural
No artificial flavors or additional ingredients
Sizes and Product Addons
Our products come in a variety of sizes and options. We've added this info to help you with your purchasing online. If anything is unclear, please don't hesitate to reach out to us and we'll help you out as soon as possible!
Bottle Sizes
Sample Size Bottle (60ml)
Small Size Bottle (200ml)
Medium Size Bottle (375ml)
Pourer Options
Stopper Pourer
Spout Slow Pourer (colors vary)