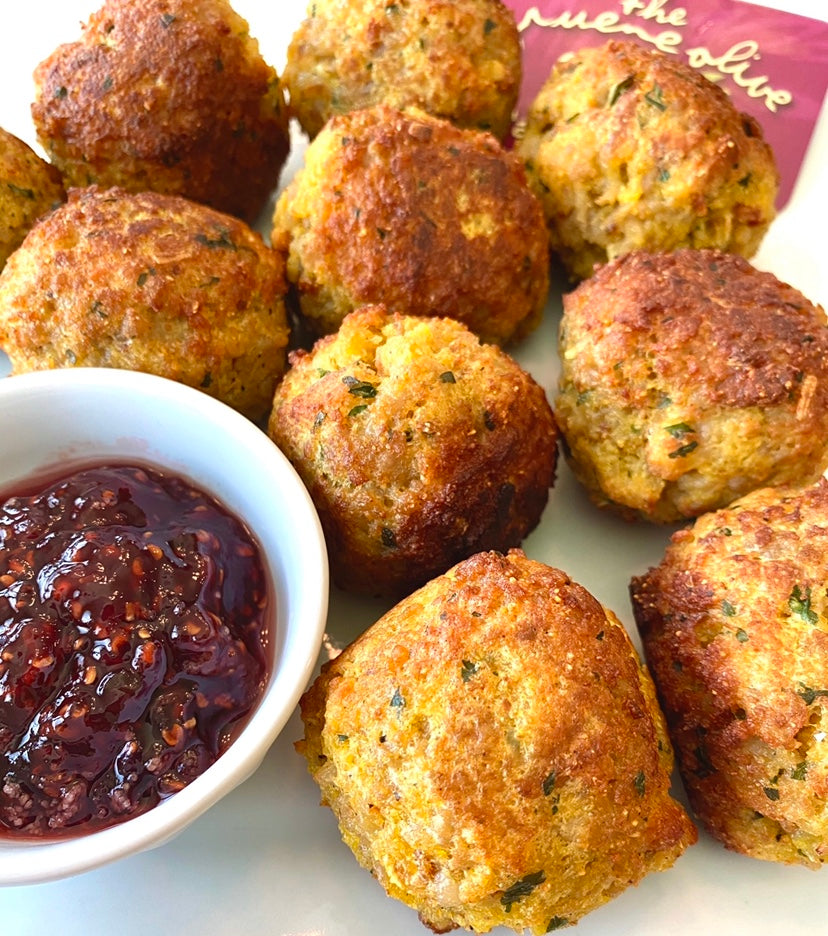 Stuffing Sausage Balls with Hot Pepper Raspberry Preserves
These sausage balls are easy & delicious for appetizers or have with eggs for breakfast😊 We served with our HOT PEPPER RASPBERRY PRESERVES, oh my!
We kept the recipe very simple, since we had limited food in pantry & refrigerator, feel free to add veggies & cheese to stuffing recipe.

2-3 TBSP Baklouti Green Chili Olive Oil

1 Box Stovetop Stuffing, we used Cornbread flavor, but any flavor will work.
1 Lb Sausage
1 Cup Chicken Broth
2 Eggs
1/2 Cup aged cheddar cheese (optional)
On stove cook sausage. Drain off grease, let sausage cool.
Add chicken broth & eggs to stuffing. Once sausage is cooled add sausage to your stuffing mix. Mix completely. Form stuffing mix into 2 inch balls. Should make 10 balls.
On stove add 2-3 TBSP of olive oil  to frying skillet, medium high heat.
Set oven to 375.
Brown the balls in skillet, a few seconds on each side. Place browned balls on cooking sheet. Bake at 375 for 10 minutes. Sever with hot raspberry preserves.
Enjoy!
Leave a comment