Peach Mango Lime Smoothie 1 TBSP Mango-Lime Combo or 1/2 TBSP Mango Balsamic & 1/2 Lime Olive Oil 1 Cup frozen sliced peach 1 Cup Creamy Yogurt Blend until smooth. Top with whipped cream & fresh fruit. Makes 3 servings. 
Mexican Stuffed Peppers 4 green bell peppers 2 lbs. ground beef 1 small onion diced 1 can drained rotel tomatoes 1 can drained black beans 1 large package shredded Mexican cheese 2 Tablespoons Taco Seasoning Salt and pepper to taste Red chili pepper flakes to taste 2 Tablespoons caye...
2 Cups Basil, finely chopped 1 TBSP Garlic, minced 1/3 Cup Nuts, chopped We used roasted Marcona Almonds, pine nuts are traditionally used 1/2 Fresh Parmesan cheese, shedded 1/4 teaspoon salt 1/4 teaspoon pepper 1/2 Cup House Blend Pepper Olive Oil (Madagascar Black Pepper Olive Oil & Bakl...
1/4 Cup Milanese Gremolata Olive Oil 1/4 Cup Sicilian Lemon White Balsamic  2 TBSP Mayo 1 Bag of Coleslaw  Use your favorite veggie coleslaw mix add 1/4cup Milanese Gremolata olive oil & 1/4 cup Sicilian Lemon white balsamic 2 TBSP of mayo, mix well. (For more creamy looking coleslaw use...
2/3 Cup  lemongrass mint balsamic & lime olive oil combo =1/3 cup lemongrass mint white balsamic & 1/3 cup Persian lime olive oil 1/2 Cup fresh raspberries 1 TBSP sugar Directions: Reduce in sauce pan on medium low heat. Then strain raspberry seeds & fruit, till smooth. We pou...
Husselback Potatoes & White Cheddar Jalapeño Bacon Dip 3 TBSP Chipotle olive oil 4 Potatoes 1-2 TBSP Zesty Bread Dipping Mix for seasoning or your favorite seasoning blend. White Cheddar Jalapeño Dip Mix 1 1/2 Cup sour cream 1/3 mayo 4 slices of cooked bacon chopped Chopsticks Set over to ...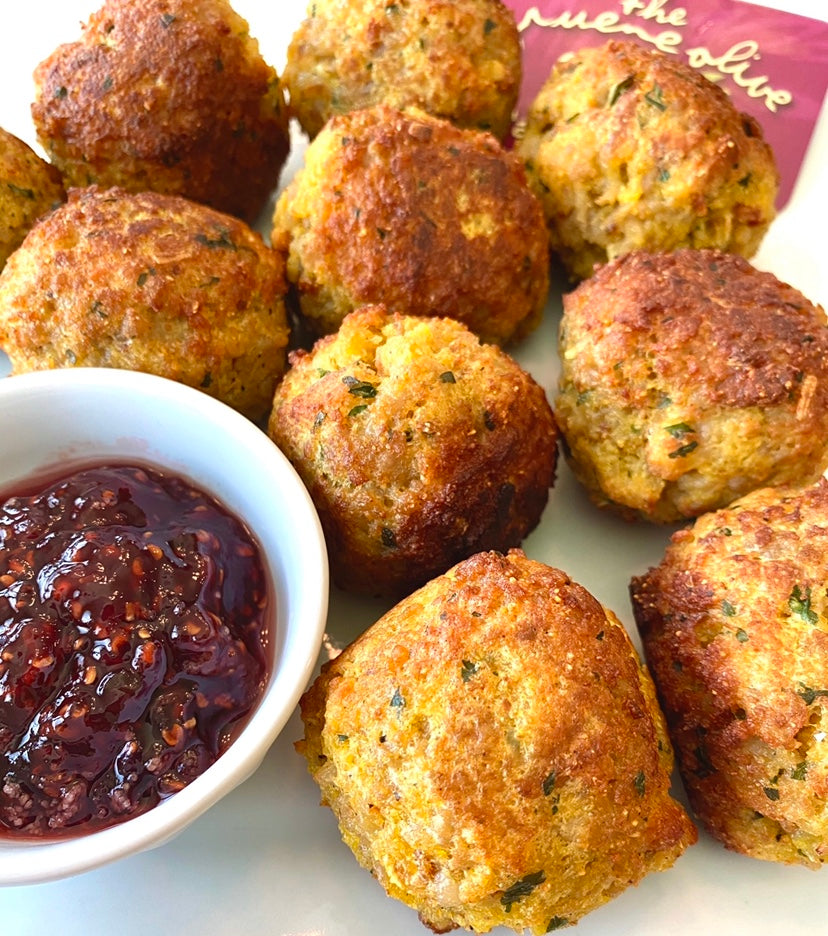 Stuffing Sausage Balls with Hot Pepper Raspberry Preserves These sausage balls are easy & delicious for appetizers or have with eggs for breakfast😊 We served with our HOT PEPPER RASPBERRY PRESERVES, oh my! We kept the recipe very simple, since we had limited food in pantry & refrigerato...
Sizes and Product Addons
Our products come in a variety of sizes and options. We've added this info to help you with your purchasing online. If anything is unclear, please don't hesitate to reach out to us and we'll help you out as soon as possible!
Bottle Sizes
Sample Size Bottle (60ml)
Small Size Bottle (200ml)
Medium Size Bottle (375ml)
Pourer Options
Stopper Pourer
Spout Slow Pourer (colors vary)